Share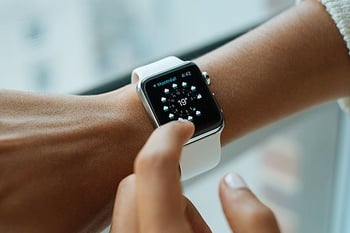 One of the most promising uses of wearable fitness technology is its role in the workplace. With employers paying thousands of dollars a month to cover health insurance policies for employees, wearable technology is changing the game — for everyone.
About 90% of companies now offer workplace wellness programs, some of which encourage employees to use wearable devices, such as Fitbit, to measure the quantity and intensity of their workouts.
What's in it for employers? Potential reduction in the cost of providing employee healthcare, along with the goodwill that engagement programs can cultivate.
Here are 3 reasons wearable fitness technology is right for the workplace.
1. Amplify Health Savings
Employers who encourage their employees to adopt healthier lifestyles see substantial savings through the use of incentives. These programs strategically address the desperate need to control and curb escalating healthcare costs. Self-insured companies especially have an interest in controlling healthcare costs through the use of incentives — about 30% of all U.S. Companies (roughly 100 million workers) are covered by such plans.
One wellness program provider, whose members use Fitbit, has found that healthcare costs of highly engaged participants rise just 0.7% annually, compared with 24% for less engaged participants.
With visual and motivational tools to track progress, mechanisms are in place to sustain engagement. And since the programs are administered by third-party providers, employers can't see any personal metrics for specific employees. Instead, aggregate data is compiled, and the employer is empowered to see insightful correlations between wellness, job satisfaction, and financial performance.
With the help of powerful third-party employee wellness platforms that integrate with apps and gadgets that people already use, such as Fitbit or Jawbone, consistent employee engagement can be achieved to drive positive behavior change.
2. Maximize Incentives to Influence Good Behavior
According to an Aon Hewitt Health Survey, nearly 40% of organizations expect to migrate toward a "house money / house rules" approach, which requires employees to take a more active role in their health – and employers aren't the least bit shy to leverage incentives to influence behavior. It's no secret that incentives directly influence healthy decisions, but the real magic happens when you make the right thing to do easy.
If you make the right thing to do easy, more people will engage. And wearable technology makes it easier to do the right thing. It makes living a healthier lifestyle measurable and therefore achievable. The simple fact that people won't have to think about activating a mobile app to start monitoring data inspires and encourages engagement.
The benefits are felt by every stakeholder: lower healthcare spending for employers, financial and tangible rewards for employees, and improvement in the general health of the population for health providers.
3. Tangible Way to Build Company Culture
On average, Americans working full-time spend more than one-third of their day, five days per week at the workplace. What better setting to encourage healthy behavior and disease prevention all while enriching your company culture?
In the past, companies looking to increase staff morale and productivity may not have stretched much further than a holiday bonus or the prospect of an espresso machine in the break room. Today, leading employers recognize that wellness is an essential component of cultivating culture. And wearables, paired with innovative software such as HealthPassport, have the uncanny ability to help bridge the gap.
A silver bullet does not a fitness band make. And yet, wearables do cause a once isolated pursuit of health to powerfully shift to a collective one. From coordinated fitness and nutrition challenges to serendipitous interactions at the water cooler, seeing a co-worker with a wearable – and actually talking about it – gives us just one more thing to share in common.
Taking the Digital Leap
It should be noted that barriers to adoption (among both employees and employers) do exist. Employers will have to consider such issues as privacy, "Bring Your Own Device" rules, and technology costs.
These are issues that early adopters are currently encountering, and industry experts expect further clarity in the near future. But when we look back in ten years, we'll recognize that this age was just the start of wearable technology.
Even so, the business case for adopting wearables is a persuasive one – and delaying adoption will only delay potential savings.
Photo credit: fancycrave1 [Public domain], via Wikimedia Commons