Share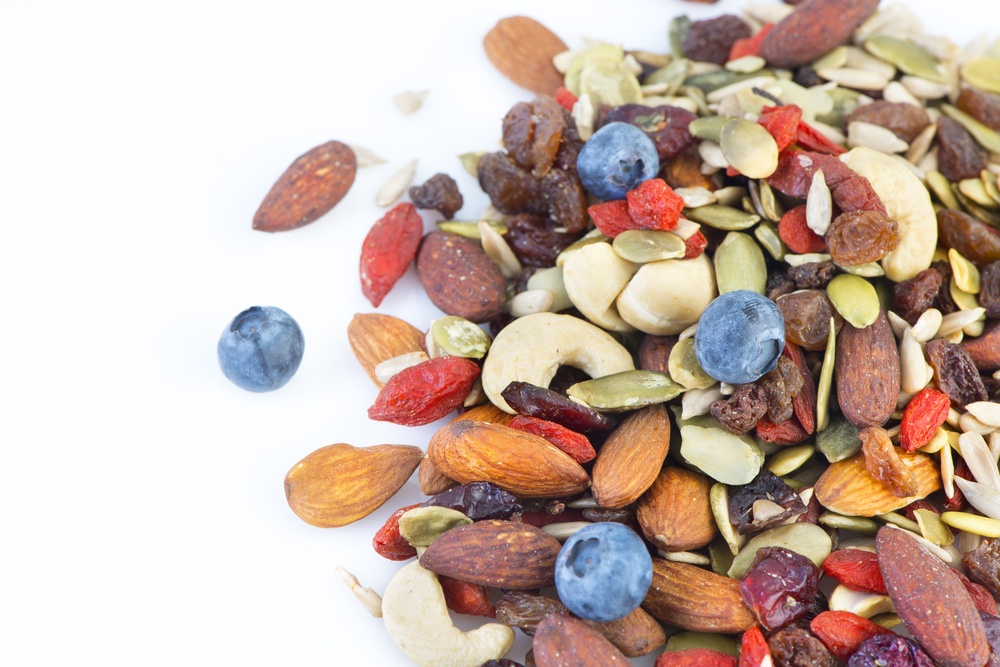 Trail mix can be one of the easiest, healthiest snacks to take on the go. A homemade mix can be put together in only minutes using four simple steps. Whether you are taking it to the park, the trail, or the beach this summer, skip the sugar and salt laden store bought mixes and create your own favorite trail mix this week!
Step 1. Start with Nuts and Seeds
Nuts and seeds add healthy unsaturated fats, protein, fiber, antioxidants, vitamin E, and many other vitamins and minerals to your trail mix. Choose raw or roasted unsalted, unsweetened nuts to keep the sugar and sodium of your mix at a healthy level. Great nut choices include almonds, pistachios, peanuts, walnuts, or cashews. If you want to add an extra nutritional boost, choose a nut that is high in omega-3 fatty acids such as chia seeds, flaxseed, or hemp seeds. Other healthy seed options include pumpkin, sunflower, and sesame seeds.
Step 2. Add Dried fruit
Nuts give trail mix desirable crunch, but dried fruits settle the craving for a chewy treat! Do be careful about the dried fruit you choose, as many are sweetened with loads of unneeded refined sugars. Added sugars are common in tart fruits, such as cherries or cranberries. Check the package ingredients and steer clear of any added sugars.
Step 3. Top with a Treat
Lastly, add something you love to your mix to make it a real treat. Throw in a handful of whole grain cereal, popcorn, banana chips, or perhaps some dark chocolate or peanut butter chips. Something you know will lift your spirits and keep you going out on the trail this weekend!
Step 4. Season!
Once you have all the ingredients for your mix, it's time to season! Adding fun spices is a great way to boost flavor. Common trail mix seasonings include sea salt, ginger, nutmeg, cayenne, and curry.
Now that you know the four steps to making a great mix, here is an example recipe to get you started!
Quick and Easy Trail Mix Recipe
¾ cup raw cashews
¾ cup raw almonds
½ cup sunflower seeds
½ cup pumpkin seeds
½ cup unsweetened raisins
¼ cup dark chocolate chips
¼ cup banana chips
¼ tsp sea sat
½ tsp cinnamon
¼ tsp nutmeg