Share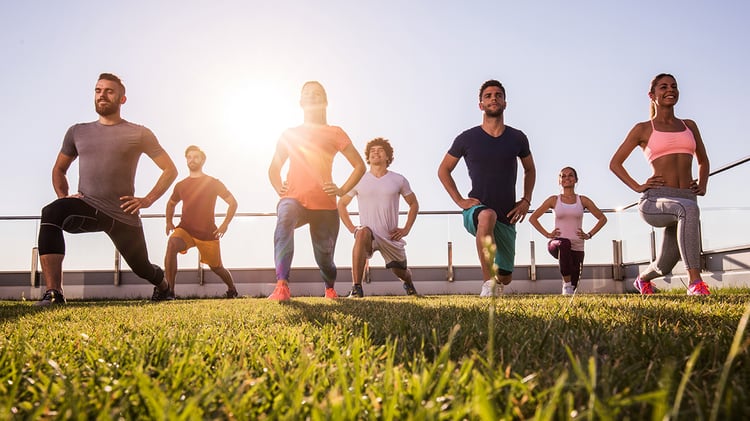 Do you experience decreased muscle mass? Fatigue? Frequent strains, sprains, or fractures? Increased weight in your chest and abdomen? Mood swings or lack of motivation? Any of these could be related to low testosterone-and not just in men.
According to the Journal of Clinical Endocrinology and Metabolism, low testosterone affects 1 out of 4 men over the age of 30. 1 out of 20 experiences symptoms related to low testosterone like erectile dysfunction, fatigue, sleep disturbances, and mental fog.
Low testosterone or "Low-T" is becoming more prevalent in the United States and is on the decline since 1970. This is attributed to poor diet, lack of exercise, environmental toxins, and increasing stress levels. Low testosterone is directly associated with loss of muscle mass, increased body fat, and compromised performance.
Here's what you can do to boost your testosterone:
1) Improve your insulin sensitivity
Spikes in blood sugar decrease your body's ability to produce testosterone. Be sure to:
Eat high quality low estrogenic proteins. Estrogenic proteins like peanuts, chicken, and lamb decrease testosterone.

Include healthy fats like coconut oil, olive oil, flax, and avocados in your diet.

Reduce the blood sugar spike response by incorporating berries and nuts like Brazil or Walnuts into your day
2)
Check for vitamin
deficiencies
Make sure you aren't nutrient deficient in Zinc, Magnesium, and Vitamin D. Zinc stimulates the production of LH (Leutinizing Hormone), the main precursor of Testosterone release. Vitamin D inhibits the conversion of Testosterone to Estrogen. Magnesium helps with recovery and overall hormone balance. Eat foods like fish, veggies, low-glycemic fruits (think reds and blues), and consider supplementing Vitamin D
3) Practice meditation and mindfulness
Take a mindful moment with meditation, yoga, or a minute breathing break during your day. High stress produces the stress hormone cortisol which competes with testosterone production.
4) Avoid alcohol
Avoid alcohol, especially beer. Sorry guys! Beer is highly estrogenic and causes testosterone to convert to estrogen.
5) Try interval workouts
Try interval workouts instead of high intensity, high load aerobic workouts. Marathoners, triathletes, and cross-fitters are the most susceptible to low testosterone. Interval workouts give balance to your Type 1 and Type 2 muscle fibers. Make sure you backload your recovery efforts. You can try:
Cold Pools or Cryotherapy

Topical or supplemental Biocurcumin and Magnesium

Good fats and complex carbohydrates after your workout
Try this exercise regimen to boost your testosterone
Remember, workout regimens that include high-intensity interval training and weight lifting help to boost testosterone. For weight lifting, try 6 sets of 7-8 reps, you could consider a range of 4-8 sets of 6-10 reps. Rest for 45 to 60 seconds between each set. Here is one example of what a 4x week program could look like.
Monday and Thursday – Lower Body
Back Squat, 5 x 6-8

Romanian Deadlift, 5 x 6-8

Lunge, 5 x 6-8

Lying Leg Curl, 5 x 6-8
Tuesday and Friday – Upper Body
Barbell Military Press, 5 x 6-8

Close Parallel-Grip Chin-Up, 5 x 6-8

Incline Dumbbell Press, 5 x 6-8, 3010

One-Arm Dumbbell Row, 5 x 6-8, 3010
References
J Exerc Rehabil. 2015 Feb; 11(1): 2–4.

Horm Metab Res. 2011 Mar;43(3):223-5.

doi: 10.1055/s-0030-1269854. Epub 2010 Dec 10

Int J Sport Nutr Exerc Metab. 2008 Apr;18(2):131-41.

doi: 10.1123/ijsnem.18.2.131

Chang, C., Choi, J., Kim, H., Park, S. Correlation Between Serum Testosterone Level and Concentrations of Copper and Zinc in Hair Tissue. Biological Trace Element Research. 14 June 2011. Published Ahead of Print.

Hackney, Anthony. Endurance Training and Testosterone Levels. Sports Medicine. 1989. 8(2), 117-127.

Hackney, Anthony. Testosterone and Reproductive Dysfunction in Endurance-Trained Men. Encyclopedia of Sports Medicine and Science. International Society for Sport Science. 20 Sept 1998. http://www.sportsci.org/encyc/testosterone/testosterone.html. Retrieved 1 May 2015.

Lac G, Berthon P. Changes in cortisol and testosterone levels and T/C ratio during an endurance competition and recovery. Journal of Sports Medicine and Physical Fitness. 2000. 40(2), 139-44