FOR IMMEDIATE RELEASE
November 15, 2018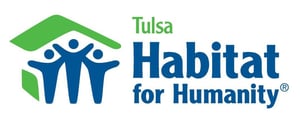 Tulsa Habitat for Humanity Partners with CareATC to Improve Employee Health
---
Tulsa, OK – Since 1989 Tulsa Habitat for Humanity has partnered with the Tulsa area community to help families achieve the dream of home ownership. The local nonprofit has implemented progressive and innovative approaches to improving the lives of their employees and the community it serves. In line with their forward-thinking approach to community development, Tulsa Habitat for Humanity has selected CareATC, a leading national employee population health management provider, to deliver high quality health care at no cost to their employees.
CareATC's shared-site clinic structure provides employers with primary care, preventative health screenings, disease management and lifestyle education for improved job productivity and to decrease employee absenteeism. Tulsa Habitat for Humanity employees and their families will have access to seven shared-site clinics that provide same or next day primary care appointments, free generic prescription dispensary, and on-site lab work. CareATC implements proactive steps, such as Personal Health Assessments, to engage patients towards stronger individualized health results and improved quality of life.
"Our model of shared-site clinics saves the employer money by improving worker health and well-being. We're proud to partner with Tulsa Habitat for Humanity to provide employees and their families access to quality care and ongoing support to reach health and wellness goals, as well as long-term savings," says Austin Zellner, CareATC Vice President of Business Development.
Tulsa Habitat for Humanity joins other area nonprofits and the City's municipality in a network of shared-site clinics located throughout Tulsa and Owasso. Headquartered in Tulsa, OK, CareATC is the first provider of on-site clinics to achieve 100% network accreditation from Accreditation Association of Ambulatory Health Care, Inc. (AAAHC), earn the Evidence-Based Design Accreditation from the EDAC™ Advisory Council, and be Net Promoter® Certified.
About CareATC, Inc.
CareATC Inc. is a leading innovator in the health technology sector providing on-site and shared-site medical clinics. By leveraging groundbreaking technology, CareATC offers customized population health management solutions for employers that reduce healthcare costs by promoting health, preventing disease and providing a shorter path to care. CareATC manages more than 150 clients in 35 states and cares for more than 250,000 patients. Accredited by the Accreditation Association for Ambulatory Health Care Inc., CareATC is based in Tulsa, Oklahoma. To learn more about CareATC Inc., visit www.careatc.com.

Media Contact: Paul Keeling
Media Contact Phone: 918.779.7414
Media Contact Email: paulkeeling@careatc.com