Share
Do you wish you could design your own health plan? Do you want to improve employee health while reducing the cost of care? Then self-funding may be for you.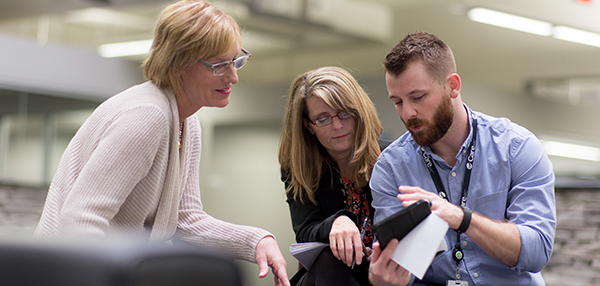 What exactly is self-funding? Instead of paying a premium to a commercial insurer, employers in a self-funded or "self-insured" health plan accept responsibility for the risk of health care for enrollees. You might be thinking, "How on earth is this a good idea?!" Don't press the panic button just yet.
Self-funded plans are actually more cost-effective in the long run because expenses associated with a fully insured plan are eliminated and yes, there are smart ways to mitigate risk. In this setup, employers have more control over their health benefit program and have a direct impact in reducing the cost of care by improving employee health. Here are five signs that self-funded health plan might be right for you.
1. You're ready to reduce cost by improving employee health.
Many self-funded employers are implementing innovative ways to reduce the barriers to care, including on- or near-site medical clinics. These employers recognize that accessing quality healthcare doesn't have to be complicated. By offering convenient access to high-quality primary care focused on risk identification and health optimization, employers are dramatically reducing healthcare costs while simultaneously improving employee health.
There are a number of other programs available to self-funded employers to help improve cost containment, including disease management programs, pharmacy benefit programs, and more.
2. You want greater control over expenses.
As a self-funded employer, you can choose the programs that work best your health benefit program. Under a traditional fully insured model, the employer is restricted to using cost and utilization control programs that are offered by the insurance company.
Another great thing about being self-insured? You only pay for expenses only after they have been incurred. And since funds aren't tied up by insurance carriers, company cash flow is markedly improved and provides greater access to funds exempt from a premium tax.
3. You wish you could design your own health insurance plan.
What would happen if you had more flexibility in your health plan design? With self-funding, you can. The Employee Retirement Income Security Act of 1974 (ERISA) regulates self-funded plans and exempts these plans from state insurance laws that typically mandate certain benefits for insured plans, allowing uniformity across state lines for multi-state employers. Meaning with self-funding, you can choose the plan that's right for your employees.
Under a traditional fully insured plan, employees are limited to obtaining services from the services providers within the network offered by the insurance company. With a self-funded plan, the employer can choose a provider network that best fits with the needs of the employees.
4. You want efficient, accurate claims administration & great customer service.
So if you assume responsibility for employer-sponsored care, does that mean you have to be buried in paperwork? Not at all. Typically, employers work with a Third Party Administrator (TPA) to not only structure their self-funded plan and set up stop loss insurance, but also provide a variety of administrative services.
This includes maintaining proper funding so claims can be paid, paying the claims, and preparing claim reports and other data for the plan.
Another great selling point? Employers frequently find that administrative costs for a self-funded program through a TPA are lower than those charged by an insurance carrier.
5. You want access to quality reporting to make better decisions.
Self-funding typically offers access to data and benchmarking for the plan sponsor – that's you! Imagine having aggregate information that could help inform your wellness strategy.
You would have access to key indicators like total charges, total payments, payments per enrollee, payments by service code grouping (to see which type of provider or diagnosis is most prevalent), and how effective the network is in terms of utilization and discounts. You'd have the ability to drill into the details to come up with the best game plan in real-time.
Self-Funding and On-Site Primary Care Go Hand in Hand
Self-funding is not just about savings; it's about control. Self-funded employers along with their advisers maximize control of the plan design, claims data and especially healthcare delivery. While most employers and their brokers stop at plan design and claims data, the real savings happens when there is greater managing of the the supply chain of healthcare. The foundation of that supply chain starts with on-site or near-site primary care. In self-funded plans where the healthcare supply chain to reduce the year-over-year cost of healthcare by 15% or more.
The bottom line? If you want to deliver year-over-year reduction of the healthcare spend, it begins with self-funding.