Share
Identify the factors that contribute to unhealthy workforce and discover what you can do to turn things around for good.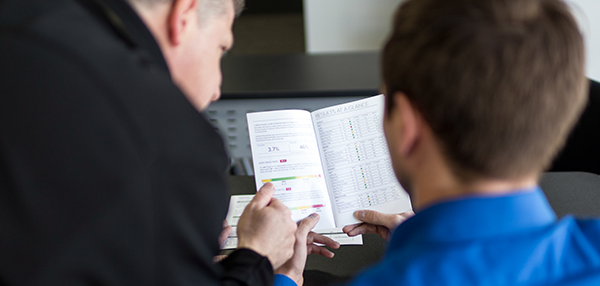 People are the greatest asset of any organization. Some of the greatest companies are built on the innovative minds of an engaged workforce. But with less than one-third of employees engaged at work, it's in the best interest of every employer to explore barriers to engagement – including health.
What's the problem?
It's no secret that healthy employees are the most productive and engaged. In fact, companies with engaged employee are over 20% more profitable than their competitors. Unfortunately, unhealthy employees are strongly affecting employers' increasing healthcare expenditure, costing employers in both direct and indirect (such as missed days at work) costs. In fact, productivity losses linked to employees who miss work cost employers $225.8 billion, or $1,685 per employee, each year. One major culprit is chronic disease.
Chronic disease includes is defined as "a long-standing condition that can be controlled but not cured…" and costs the United States $2.8 trillion every year. Four of the most expensive health conditions for US employers – high blood pressure, heart attack, diabetes, and chest pain – are related to heart disease and stroke.
Many of these chronic diseases are preventable and treatable. Unfortunately, many employers focus wellness programs only on prevention rather than intervention of chronic disease. By tackling the low-hanging fruit of chronic disease, employers can save in the short-term.
In fact, for every dollar spent in chronic disease management, $3.80 is saved. Even just a 1% reduction in excess weight and high blood pressure, glucose and cholesterol levels has been shown to save $83 to $103 annually in medical costs per person.
So where do you begin in identifying the chronic diseases that are impacting your bottom-line?
Some of the most robust programs incorporate solutions across a comprehensive care continuum. For starters, employers are incorporating personal health assessments, equipping employees with the information they need to know where they are and find out where they need to be. But it shouldn't stop here — knowledge should come with action. Understanding this principle, many companies are finding positive outcomes in paving a clear path to health with a well-defined wellness ecosystem.
For example, what if your employee could review their personal health assessment with their direct primary care provider at the company clinic. If a chronic disease was identified, then the employee is enrolled in a chronic disease management program with minimum compliance requirements. By removing barriers to care and improving health, you arere positioning your company to improve employee engagement and your bottom-line.
With 67% of employers identifying employee's poor health habits as one of their top three challenges to maintain affordable health coverage, innovative solutions are in higher demand.
By focusing on intervention, not just prevention, employers can begin setting the course for sustainable behavioral change and major healthcare savings. The key is to keep exploring new, comprehensive ways to engage employees across the healthcare continuum. On average, Americans who work full-time spend more than one-third of their day, 5 days a week at their workplace.
As employers, we have an incredible opportunity – and maybe even responsibility – to set the course for change.