Share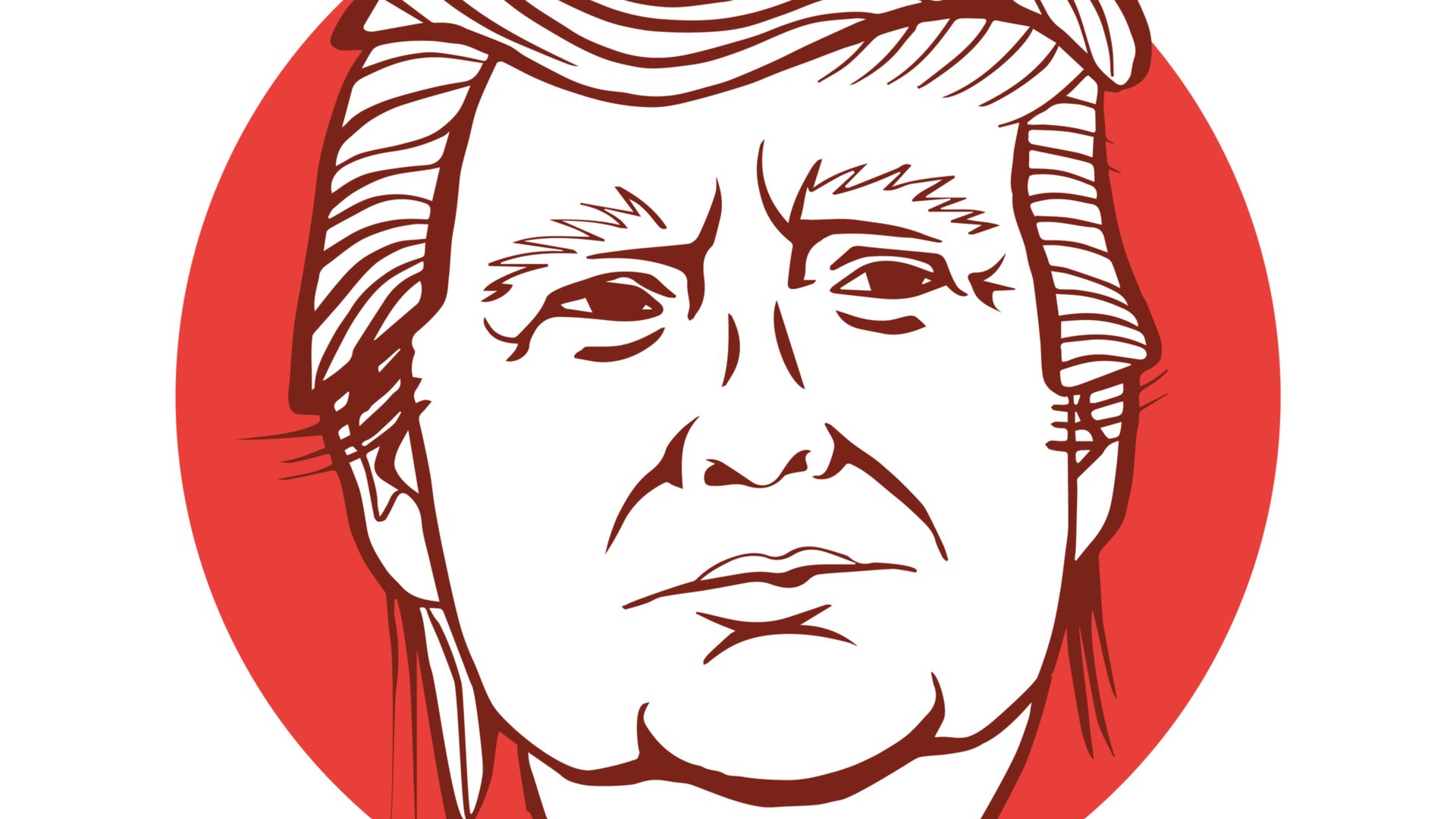 President Trump takes action on his promise to "repeal and replace" the Affordable Care Act. What will Republican leaders do next?
While largely symbolic, President Donald Trump's executive order on Inauguration Day urging federal officials to "take all actions consistent with the law to minimize the unwarranted economic and regulatory burdens" of the federal health care law made it clear that the promise to "replace and repeal" the Affordable Care Act was not an empty one.
The appointment of Tom Price as Health & Human Services Secretary, an advocate of promoting a market-based plan to replace the law, elevates the conservative approach to implement reforms that will lower the cost of health care and reduce the role of the federal government in the health care system.
While an official plan has yet to be proposed by the Trump Administration, a few Republican leaders have introduced the Patient Freedom Act of 2017 (PFA), a proposal partially repealing and replacing the Affordable Care Act (ACA), favoring state-led selection on health policies. While the future of U.S. healthcare policy is still unclear, recent information can clue us into what the future may hold.
America Still Divided on ACA
The election of Donald Trump reflected populist frustrations of the Obama Administration's policies, including the ACA. Yet, America remains divided. A Pew Research Center poll conducted early this month indicated that the American public is evenly divided on whether to repeal or expand the law (39 percent each), 15 percent want lawmakers to move forward with the law as it currently stands.
The ACA has resulted in coverage of more than 20 million people and certain parts of the law remain popular. According to a Kaiser Family Foundation poll, 80 percent of Americans said they like the provision of the law that provides financial help for people who purchase coverage. Further, 69 percent favor the provision that prohibits insurers from denying coverage based on a person's medical history.
Employer Perspective
Employers also have mixed feelings of complete ACA repeal. When asked whether they would like to see the ACA repealed entirely, 44 percent were opposed; 35 percent were in favor; and 20 percent were unsure. A report from the International Foundation of Employee Benefit Plans finds that if ACA is repealed, just over three in four employers (78%) would keep in place at least some of the provisions they have already implemented in their health plans.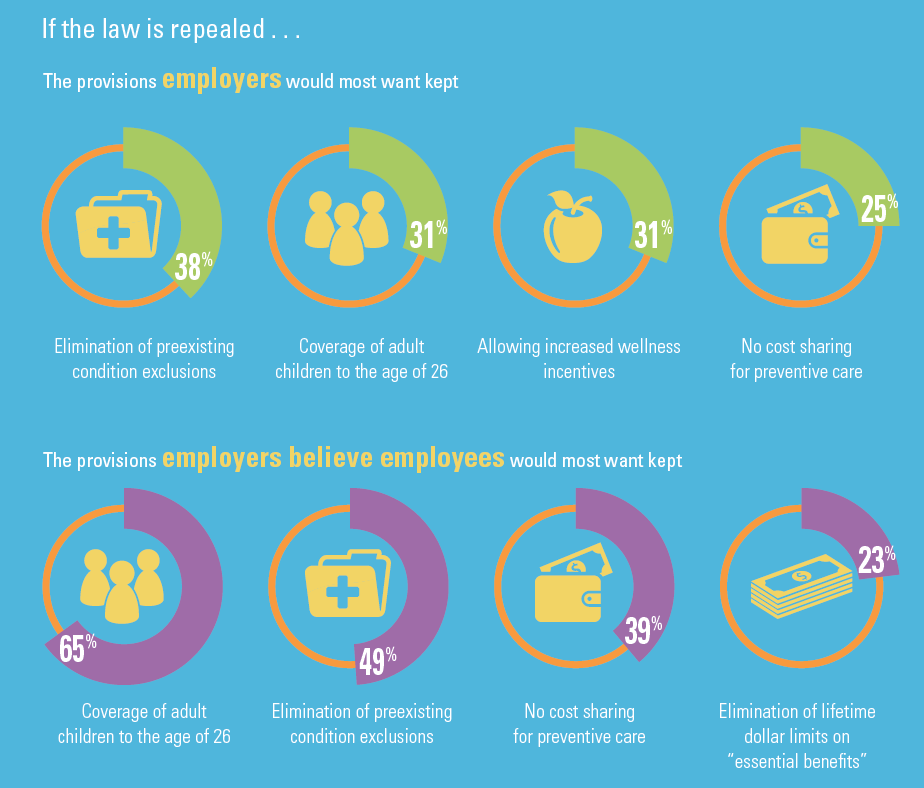 Source: International Foundation of Employee Benefit Plans
Employers report a wide range of provisions they would like to see reinstated in new legislation if ACA is repealed, including elimination of preexisting condition exclusions, coverage of adult children to age 26 and increased wellness incentives. But would a Republican replacement maintain some of the popular ACA pieces?
Related Article: 5 Crucial Wellness Strategies for Self-Funded Companies
Republican Replacement
Leading conservative health care expert Lanhee Chen co-author of the coveted American Enterprise Institute replacement proposal, offers his take on what Trump administration policy would look if he were it's chief architect. Key principles of reform include:
Citizens, not government, should control health care.
Government subsidies should come in the form of defined contribution payments.
Move power and control from the federal government to individuals, families, and states.
Supplies of medical services must have more freedom to innovate and provide better services to patients and consumers.
Reform must improve the federal fiscal outlook by reducing long-term health obligations.
"I'm also sensitive to the idea that one of the things the Affordable Care Act did was to expand coverage to many Americans who did not have it before, and I certainly believe that whatever alternative Republicans end up forging needs to be sensitive to the reality of where we are post-ACA," says Chen. "I certainly would not advocate for those coverage gains coming in the same way as how the ACA created them, but in my mind I think there is a substantial room for a set of conservative health policy principles that also recognizes the value of expanded coverage."
The Patient Freedom Act of 2017 (PFA)
Introduced on January 23, 2017 by GOP senators, the Patient Freedom Act would grant states power to "increase access to health insurance and improve patient choice, while preserving important consumer protections" from the ACA. Under the PFA, states could:
Keep the ACA (to an extent)
Adopt a different approach based on subsidized "Roth HSAs"; or
Reject reform altogether.
The intent is that the legislation will appeal both to ACA supporters and those who demand a more market-oriented, state-centered approach. While it may an effort toward bi-partisan compromise, the PFA's sheer complexity and ACA exceptions causes conservatives to be dismissive of the proposal. So, for now, don't' expect the Trump Administration to jump on this type of proposal anytime soon.
Employer Healthcare Strategies in 2017
Regardless of the outcome of healthcare policy in the United States, employers continue to play offense with proactive health and wellness strategies. One in five organizations has adopted or expanded wellness initiatives because of ACA, and another 15% plan to do so in 2017. One in six has adopted or expanded wellness incentives because of ACA and plan to offer the maximum allowable incentives under the law. But not every strategy has been informed by well-intentioned provisions.
To contain costs, the following percentage of employers have increased:
Out-of-pocket limits (37%)
In-network deductibles (34%)
Employee's share of premium costs (31%)
Copayments or coinsurance for primary care (28%)
Employee's share of prescription drug costs (25%)
Employee proportion of dependent coverage costs (24%)
It's clear that employers are requiring more employees to share in costs as well as introducing incentives to participate in workplace wellness. Because in the end, to effective reduce healthcare costs, you must start with improving employee health
Related Article: 5 Smart Ways to Reduce Healthcare Costs
We know that the ACA will be repealed. We may not know how; we may not know when. But we do know employers will continue to do what they've always done – adapt. The key is to explore innovative ways to sustainable mitigate risk and remain competitive to keep and retain top talent.