Share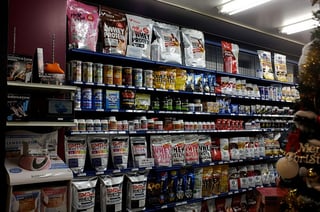 The supplement aisle is overflowing with different protein powders, making it harder and harder to decide which is best for you. It is often hard to tell the differences between the flashy labels and marketing.
Three common protein powders found on the shelves of your local store are whey, casein, and rice powders. Do you know the difference?
Do you know which one would be best for you? Let's learn a little about where each of them come from, their pros, their cons, and their protein content.
1. Whey
What's it made of? Whey protein is isolated from whey, a by-product of cheese production.
Pros: Whey protein is fast acting, making it the ideal choice for a post-workout protein. It also comes in a wide variety of flavors to suit your preferences.
Cons: Given that whey is derived from milk, this protein powder may not be appropriate for those with lactose intolerance. Additionally, with an assortment of flavors comes an assortment of additional ingredients. Always read the label to watch for hidden ingredients like added sugar.
Protein content: 30 g powder = 22.5 g protein
2. Casein
What's it made of? Casein protein powder is created by separating protein from milk.
Pros: Casein has a very slow digestion rate, providing amino acids over a longer period of time. Though this is not ideal for a post-workout supplement, it may be beneficial as a boost before bed, to allow a slow release while you sleep. Some studies also suggest that those who add casein to their regimen experience faster and better results than those using only whey.
Cons: Slow absorption can be a negative, as it limits the uses of casein protein. This powder is typically not useful when recovering immediately after a workout. Similar to whey protein, there is a potential risk when it comes to those with lactose intolerance. Finally, casein protein is often more expensive than whey, and may contain more artificial ingredients to make it more palatable.
Protein content: 35 g powder = 24 g of protein
3. Rice
What's it made of? Rice protein is isolated from brown rice.
Pros: Brown rice protein powder is another vegetarian option available on the market. This powder contains complex carbs, B vitamins, and fiber. It is also hypoallergenic, making it easily digestible.
Cons: While rice protein has added nutritional benefits, it qualifies as an incomplete protein, lacking some essential amino acids.
Protein content: 30 g powder = 24 g protein
Now that you have all the facts, choose the protein powder that best fits your preferences, goals, and lifestyle.